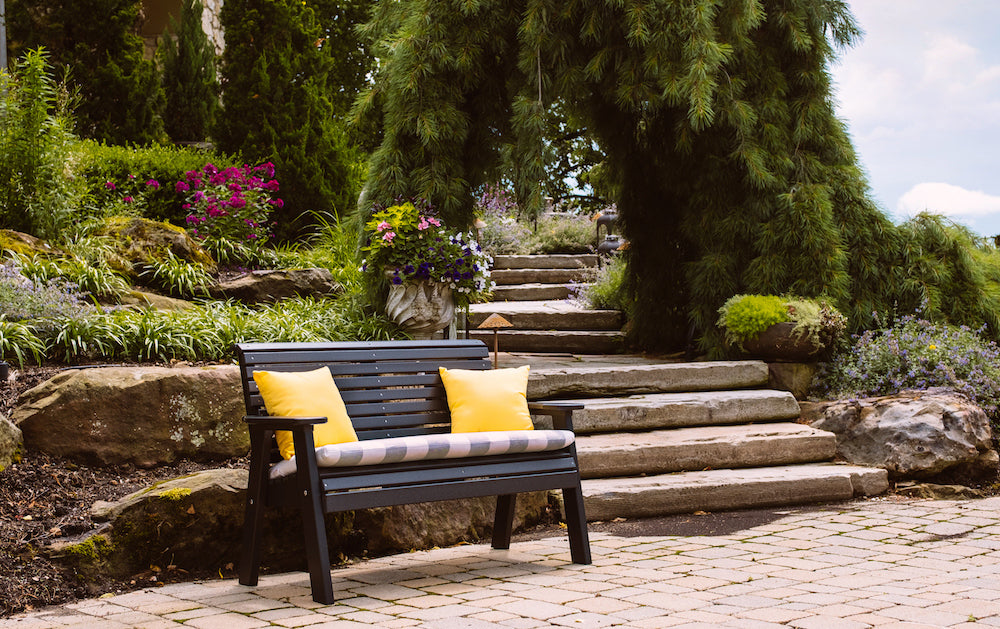 Five Tips for Designing Great Outdoor Spaces
1. Create a focal point
Just as with indoor space, your outdoor space should have a focal point that controls the space. When you establish a focal point you are subtly telling the viewer what to look at first. Your outdoor space provides an opportunity to showcase a variety of items from firepits, to waterfalls or specific landscape. 

The picture below uses colorful Adirondack chairs in a semi-circle to direct the viewer to the focal point. This arrangement also provides great mixed use of texture and color. Stone, mulch, and grass with mixed use of color provide an invitation to enjoy this space.
2. Use both sun and shade
Almost all of us enjoy the warmth of the sun warming our faces on a warm sunny summer afternoon. But what about when it's 95 degrees outside with 80% humidity? Not so much. Great outdoor spaces provide both a spot for sunshine and shade to get away from the heat when it becomes oppressive. Keep this in mind when designing your outdoor space. Providing a bench, or secondary seating area under some shade provides an opportunity to still enjoy the outdoors with some protection. A well placed bench under a shade tree can create the mental space to relax and still enjoy the outdoors.
3. Use eco-friendly materials
Using eco-friendly materials, (excuse our shameless self-promotion 😊), like our Luxcraft PolyTuf material provides many benefits. Our products are long lasting, extremely low maintenance, and environmentally friendly. Using our products assures you will never have to stain or seal your outdoor furniture ever again. You will also not have to worry about warping, cracking, splintering, or attracting insects with our PolyTuf material. All of our products are Green Circle Certified and provide the longest lasting comfort in the marketplace today.
4. Plan for every season
Great outdoor spaces can be used year round with proper planning. Making sure you add various elements for each season assures you can use your space year round. As an example, having a fireplace in Northern climates allows you to use the space during the colder winter months. Providing ample shade zones also allows you to use the space during the peak summer months when heat can be extreme. Also, don't neglect your landscaping considerations. Your landscape choices should provide color in at least three of the four seasons. The water feature shown below is a good example. As the lily-pads in the pond will die when winter approaches, the evergreens will continue to provide color during the winter months. This will help provide some color and visual interest when winter is in full season.
5. Create visual interest with color
Using color is a great way to draw attention to a space or create a focal point. While you have to be careful to not go over the top with color, a judicious use of color can create just the right element of interest and invitation to enjoy. If you live along a coastal community where sunny skies and warm temperatures dominate most of the year, brighter colors for patio furniture may mix well with your landscape and outdoor environment. However, if you live in Michigan where cloudy skies and cooler temperatures prevail most of the year, more neutral earth tone colors may be a better choice, with just the odd splash of color to provide visual interest for a focal point.
Cheers!
The Amish House