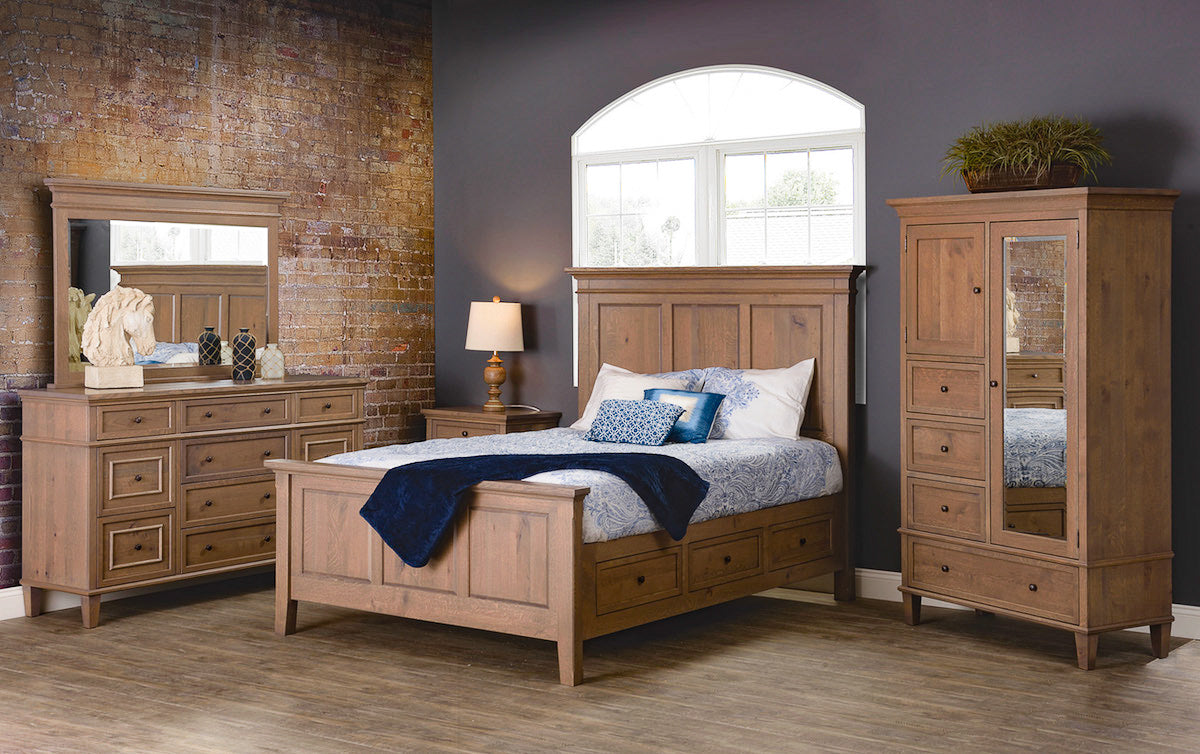 Question your storage philosophy
Short on storage? Who isn't? Something more unique to Americans than most of the world, is our desire to hang onto things way longer than we should. This includes everything from clothes to cars. Before you know it, your house has accumulated 15 years' worth of stuff crammed in every available corner.
At The Amish House, we believe the best home is a happy one. Clutter detracts your ability to enjoy your surroundings and provides unnecessary emotional weight. If you haven't had the chance to read Marie Kondo's book The Life Changing Magic of Tidying Up, we encourage those of you interested in creating a space with better energy to give it a read.
Kondo's first principle is to ask yourself if the thing you are keeping sparks joy. If it doesn't, she advocates getting rid of it. Her second concept is to give those things that do provide joy, or have special meaning, a place where it's visible and accessible. Personally, I add a third principle, because not everything in your home can create joy (pots and pans anyone), is that it must be functional. Does it perform some task or utility that is necessary to a functional well running home? If so, it makes the cut.
Magic of storage beds
Keeping the above in mind, we have solutions that can help you achieve a home that is both functional and beautiful. Let's start by looking at storage beds. All our beds come with optional under the bed storage units. These units offer a bank of drawers on each side of the bed and are built with the same high-quality construction techniques found in all our furniture. Dove tail joinery, and full extensions drawer slides are just two examples.
The Rockport Storage bed below showcases the storage units. Our storage beds are great for bedrooms with limited space, or for those who just like the idea of capitalizing on otherwise dead space under the bed. The drawers provide super convenience to store occasional use items, like an extra set of sheets and pillow covers. Or, they can provide a great quick access location for daily wear undergarments. Lastly, for those with medical considerations, these units may provide quick access storage for medicines or medical devices without having to leave the bed.
Rockport Storage Bed provides storage drawers on each side
Wine cabinets
For the wine drinking aficionados in our midst our wine cabinets also provide another opportunity to create a storage server that is both beautiful and functional. The Covington Wine Cabinet below is a great piece that is both beautiful and functional. It allows us to apply both of Kondo's principles of having a piece that sparks joy, and allowing us to place a collection, in this case wine, that is both visible and accessible. The Covington is available in a variety of woods and stains.
Covington Wine Cabinet shown in sap cherry with Asbury stain
Chiffoniers
Chiffoniers are another great example of a way to provide both beauty and function in your bedroom environment. Although we have them classified in our Armoire category for convenience sake, the chiffonier is slightly different than a traditional armoire. By definition, a chiffonier is a tall, usually narrower than standard chest of drawers, often with a mirror on top.
The Arlington Chiffonier shown below is taller than our standard chest of drawers, and also provides a mirrored door. With four drawers, four shelves, and two doors, this Arlington Chiffonier provides great storage, unit flexibility (the shelves are adjustable and removable), and clean lines for a well balanced room.
If your goal is to reduce your clutter and provide functional but beautiful storage, The Amish House is a great place to start looking for furniture that can meet those goals. Until next time.